Enhanced Athlete RAGE Pre Workout Supplement Review – The Best Pre Workout Supplement?
I've tested out the new Enhanced Athlete Pre Workout Supplement called "Rage" a few times now, and I actually really like it.
This is what the ingredient profile looks like: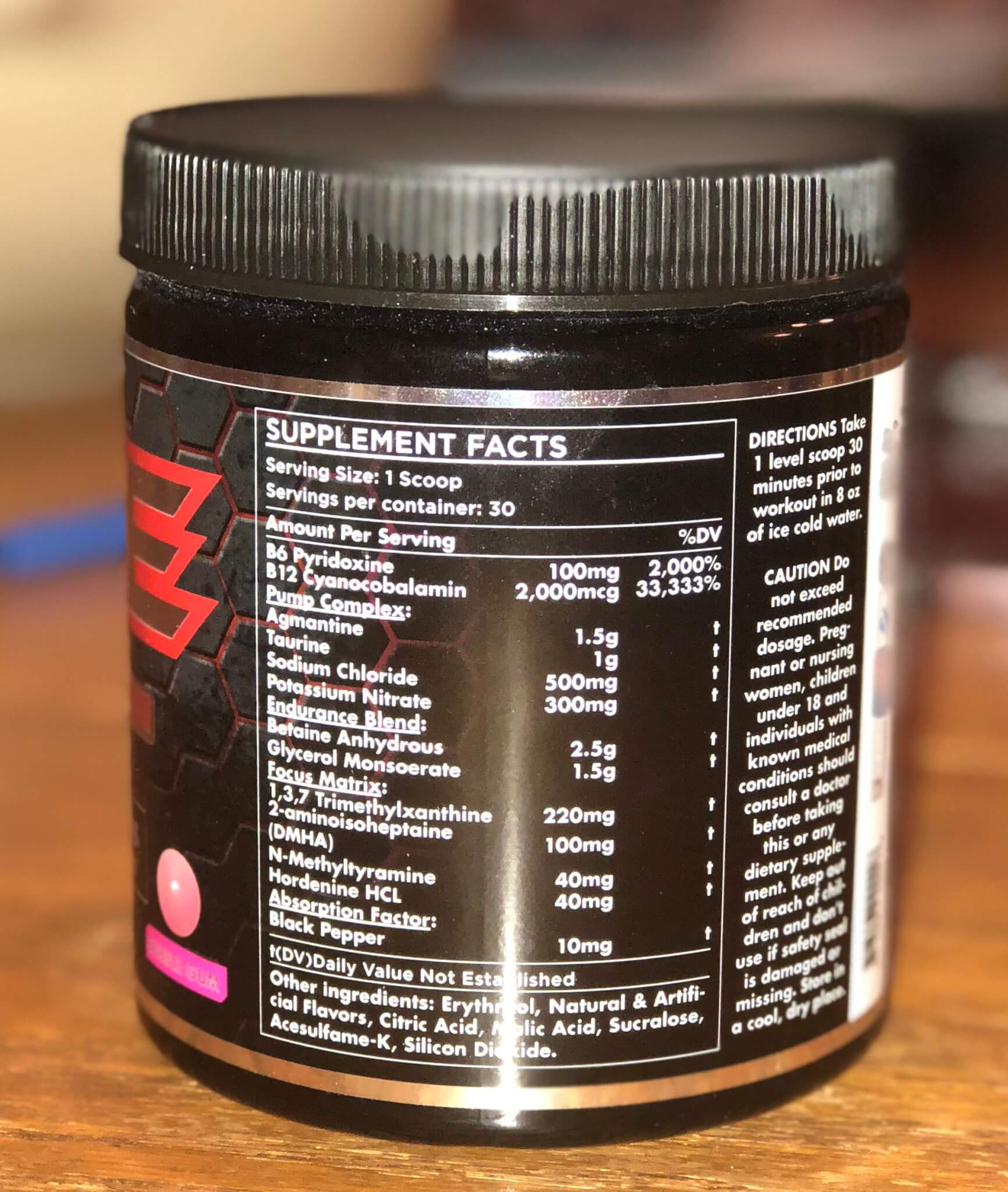 Cliff Notes:
I tried the bubble gum flavor and if I had to break down the product quickly into a 1-10 ranking I would give it the following:
Best for: Newbies + Intermediate Pre Workout Supplement Users. Hardcore stim junkies will need 1.5 scoops to really feel this pre workout.
Energy/Stims: 9/10 – The DMHA:Caffeine ratio is favorable so if you need to increase the dosage, you won't end up OD'ing on Caffeine. It also features N-Methyltyramine which is an awesome compound for mood and overall energy that isn't often found in pre workout supplements. While the half-life of this compound is only 5 minutes, the Hordenine in this product acts as an MAO inhibitor (Monoamine oxidase inhibitor) to drag out the active life of the N-Methyltyramine to make it last your entire workout. This dosage of DMHA and Caffeine will be optimal for newbies and intermediate users, but heavy duty stim junkies will either need to take a higher dosage than the recommended dosage size, or they should opt for something more stimulant dense.
Pump: 8/10 – 1500mg of Agmatine is the highest efficacious dosage typically for Agmatine, and that is what is featured per scoop in this product. You can see the pump I got from it in the review video I made of the product as I had just worked out with it prior to recording that video.
Endurance: 8/10 – My energy levels were sustained throughout the entire workout and I didn't get tired or lazy once. It helped me knock out a couple extra reps on some of my main lifts too that I wasn't able to get the previous week while being in a calorie deficit.
Taste: 6/10 – The bubble gum flavor isn't bad, but it's not good. It's satisfactory. I think there are some individuals who will like it, but I don't think it's a home run taste. It is decent though.
Overall Score: 8/10
You can listen to my full review here:
To Order Enhanced Athlete Rage Pre Workout
Use Discount Code "DC15

"

 To Save 15% On Your Order